What is Sports Chiropractic?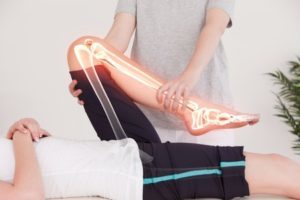 Sports Chiropractic is a specialized field of chiropractic medicine that focuses on treating, healing, and preventing injuries in athletes. This treatment modality is becoming a very popular addition to the toolkits of all types of athletes to keep them strong and performing optimally. At ProActive Chiropractic & Sports Medicine, we have the expertise and functional training to become an essential part of your athletic care regimen.
We are able to treat athletes from a variety of sports and disciplines due to our intimate understanding of the musculoskeletal system. It doesn't matter if you jog occasionally or compete at an elite level, we are here to help you perform your best with the least amount of pain possible. Our treatment methods focus on teaching you correct form and movement patterns so you can train optimally and prevent future injuries and strains.
No one wants to halt their favorite activity due to an injury or chronic pain. If you have been suffering and want to learn the best methods for recovery, visit a sports chiropractor near you. If you're in the Manhattan or Redondo Beach area, ProActive Chiropractic can help you get on the right track to doing what you love safely and painlessly.
What a Sports Chiropractor Does
A sports chiropractor specializes in treating sports-related injuries as well as helps athletes reach their fullest potential. At ProActive, our sports chiropractors are experts in injury prevention and rehabilitation, no matter the sport or activity. Our dedicated team creates customized treatment plans that ensure athletes can return to their sport as soon as possible.
Our sports chiropractors make use of physical adjustments, rehabilitative exercises, and preventive mobility routines alongside other therapeutic disciplines to help maintain the patient's musculoskeletal health. This specialty can treat a broad range of conditions and diseases such as dislocations, fractures, sprains, strains, sciatica, pulled muscles, knee issues, lower back pain, and more.
Sports chiropractors generally perform the following:
Diagnose injuries or disorders
Treat injuries and pain through manipulations, exercise, and comprehensive treatment plans
Rehabilitate by prescribing physical therapy and exercises aimed at restoring movement, function, and strength
Prevent injury and disease with treatment plans and movement coaching
Ongoing sports medicine and guidance for athletes
Visiting a sports chiropractor isn't reserved for injured athletes. This form of medicine also benefits athletes who want to prevent injuries and improve their mobility and overall performance. By correcting posture, muscular imbalances, and movement patterns, a sports chiropractor can prevent chronic pain from taking hold and enhance an athlete's innate abilities.
What to Expect
Like all chiropractic treatments, sports chiropractic utilizes non-invasive musculoskeletal adjustments and exercises to improve joint mobility, ease pain and increase function. Sports chiropractic applies the same philosophy and care as traditional chiropractic treatments but with a focus on the unique needs of athletes. Each of the sports chiropractors here at ProActive has undergone rigorous, specialized training to help athletes perform and feel their best.
To get started with sports chiropractic treatment, you will first require an initial assessment. During this first appointment, your chiropractor will discuss your needs with you and assess your movement patterns, mobility and strength. From here, they will come up with a treatment plan that keeps your goals in mind while optimizing your body's abilities.
After your initial assessment, it is a good idea to visit your chiropractor regularly to stay on top of muscular imbalances and keep learning new exercises and techniques to keep your performance at its peak. Regular appointments ensure you maximize your treatment results and will get you back in the game sooner.
If you're looking for a chiropractic clinic near you that offers sports medicine and a variety of other therapies, come visit us at ProActive Chiropractic and Sports Medicine. We can't wait to help you feel your best while you work your hardest.
Benefits of Sports Chiropractic