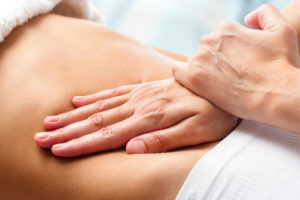 Most people who suffer from chronic back pains nowadays seek chiropractic treatments to alleviate aches and pain. In fact, of the 22 million Americans who annually visit chiropractors, around 35% people reported that they got relief from back pain caused due to many reasons like muscle strains, accidents, sports injuries, etc., within just a few months' time. As chiropractic treatment is a non-invasive therapy, there are no risks of side effects or any other complications arising from it.
Chiropractic therapy involves a hands-on spinal manipulation procedure that aligns the body's musculoskeletal structure to the right position, and thereby promotes natural healing from the pain without the use of any medications or surgery. By the manipulation procedure, it is also possible to restore the joints mobility that was affected by incidences like falling, excess stress, etc.
Chiropractic care is mainly used as an alternative pain relief technique for bones and tissues, joints, ligaments, tendons, and cartilage. In some cases, this treatment is done along with the conventional medical treatment for pain relief, especially in case of auto accidents.
Chiropractic Treatment for Back Pain
Firstly, a chiropractor will check your medical history by performing a physical examination of your body, as well as use diagnostic imaging and lab tests to determine whether the treatment will be effective for your back pain concerns. Chiropractic therapy usually involves more than one manual adjustment where a doctor will manipulate the joints by means of a controlled and sudden force that will improve quality of the motion.
Some chiropractors incorporate rehabilitation/exercise and nutritional counseling in their treatment plans as well with the main goal of restoring the function, preventing injury, and providing back pain relief.
Chiropractic Care for Other Conditions
Chiropractic care is a safe and effective treatment for acute pains. Researches have shown that aside from back pain, this treatment was very helpful to treat headaches and neck pain in patients as well. It is also seen that fibromyalgia and osteoarthritis patients respond positively to the deep tissue massage and moderate pressure in chiropractic therapy. However, people who have spinal cord compression, inflammatory arthritis, osteoporosis, or those taking blood-thinning medications must not undergo spinal manipulation treatment.
Studies have not yet proved the effectiveness of sclerotherapy or proplotherapy for relieving pain, which is used by osteopaths and chiropractors for treating chronic back pain. As the treatment is completely based on the correct diagnosis of back pain, it is necessary for the chiropractor to be well informed about your medical history, like current medications, surgical history, ongoing medical conditions, etc.